With the development of human society and the progress of productive forces, the people's material life has been greatly enriched, but the social problems that have followed have become increasingly prominent, and the problem of garbage disposal is one of them. At present, the commonly used garbage disposal methods are incineration and landfill. Because China currently does not have a complete garbage classification system, this non-discriminatory treatment not only causes serious harm to the environment, but also generates great waste of resources.
According to the "Implementation Plan for Domestic Waste Classification System" jointly issued by the National Development and Reform Commission and the Ministry of Housing and Urban-Rural Development, by the end of 2020, basic laws, regulations and standards for waste classification will be established to form a replicable and scalable domestic waste classification model. Compulsory classification of cities, the recycling rate of domestic garbage reached more than 35%.
Taking living quarters as an example, this scene has a large amount of waste and a variety of types, ranging from recyclable metals, plastics, glass, and paper to non-recyclable kitchen waste and toxic and hazardous waste disposable batteries, energy-saving lamps, and even buildings. Trash is everything.
Among them, recyclable garbage, including metal, glass, plastic and paper; kitchen waste, including various kitchen waste; non-combustible non-recyclable garbage, including various sand and stone bricks and ceramic products, and some hazardous waste; combustible Such non-recyclable waste includes wood, some non-recyclable paper, plastic, and so on.
Identifying various garbage components is the first problem that smart trash cans need to solve.
Identifying the various components and distinguishing them is the second problem to be solved, which requires a reliable and effective mechanical structure.
Smart garbage bins will be damaged and corroded by oil, scale, etc. Therefore, cleaning and ensuring the quality of use is the third problem that needs to be solved.
The reliability of the mechanical structure and the control part is the fourth problem that the smart trash can need to solve, otherwise it will cause problems such as increased maintenance costs and decreased utilization.
The price of garbage bins acceptable to residents will not be very high. Controlling costs is a problem that smart garbage bins have to face under the premise of ensuring the function and reliability.
Attach a simple design of a smart trash can.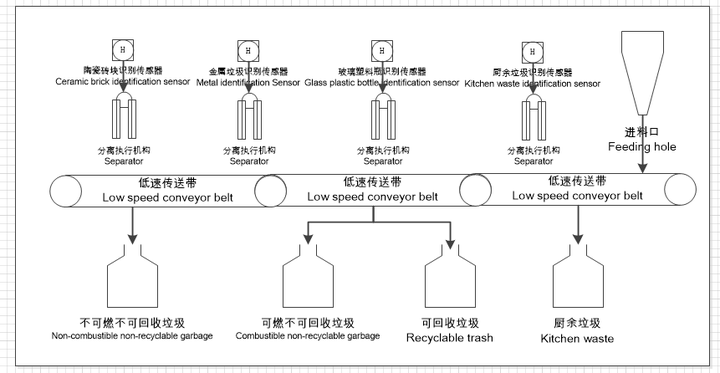 In short, the characteristics of smart trash bins with high technological content, complex structure, and low profit margin are the objective factors hindering the development of this product.